The Internet's most extensive mother's jewelry collection with over 750+ specialty mother's rings, mothers pendants, lockets, pins and bracelets.
Welcome to FavoriteJewelry.com. Celebrating our 14th year online, we offer customers across the USA and Canada a spectacular selection of specialty mothers jewelry and keepsakes to celebrate life, love and family.
We invite you to browse our secure online store where you will discover unique & beautiful mothers jewelry & gifts at competitive prices!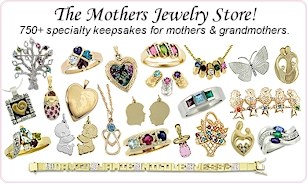 Click here to begin your search for that
truly special mothers ring or keepsake.

Specializing In Mother's Jewelry
& Family Keepsakes Since 1999.