Mother or Grandma
Pin/Pendant Combination

A pretty 14k yellow gold pin AND pendant combination that is available for "Mother" or "Grandma". This unique design can be worn two ways because it has a bar pin with catch and a hidden bail on the back. You can have these items personalized as a special order item by adding up to 7 (seven) optional tiny, synthetic stone, 14k gold heart dangles. Mother or Grandma Pin-Pendant measures approximately 1 1/4" x 7/8" and the tiny heart dangles measure about 3/16" tall without the loop. Generally ships in about 2-5 days. Optional chains are also available.
Personalized or Non-Personalized.
No additional charge to attach heart
dangles- see details below.
These items are returnable in accordance with store
policies UNLESS DANGLES HAVE BEEN ATTACHED.
All pictures are enlarged to show detail... see product description for actual measurements.

Important- Pin/Pendants that have been personalized by attaching any heart dangles are NOT RETURNABLE.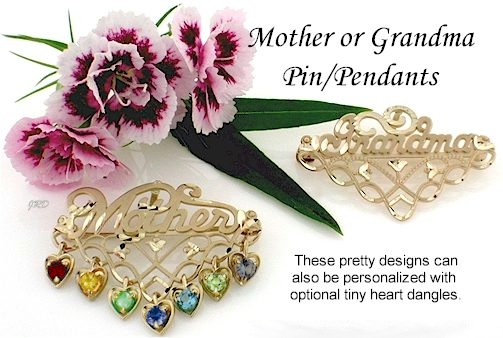 Our Price: Click on box below for pricing.