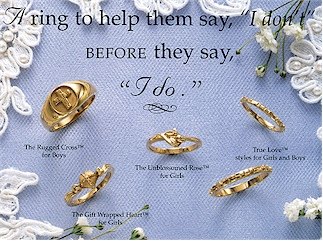 Rings for Young Ladies
Unblossomed Rose
Gift Wrapped Heart
Rings for Young Men
The Rugged Cross
Jesus Ring
Chastity Rings®


Rings have always been a beautiful symbol of life's promises, commitments, and celebrations. One of the most wonderful of these is your wedding day. Everyone holds in their hearts a cherished dream of offering themselves on that special day, pure in body and spirit. You want that dream to come true; God wants it too, more than you know. Ask Him to give you the strength to keep that promise, then symbolize it with a Chastity Ring® made of precious gold or silver, to wear until that special day when you celebrate your marriage with your spouse.

These very special rings come gift boxed and include a pledge card. Designs
are subject to and protected by copyright. Names are registered trademarks.