The Kids
® Traditional Pendants
Boy and Girl Pendants For Mother And Grandmother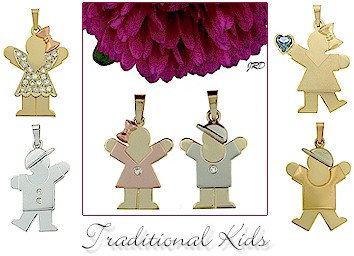 This is the ORIGINAL collection of The Kids® pendants. These traditional designs start with a flat, high polish 14k yellow or white gold, boy or girl cutout base. Hats and bows finish many of The Kids® designs. "Clothing" is cut from flat yellow, white or pink 14k gold. Each of these boy and girl pendants is dressed by soldering on a a plain or ruffled dress, shirt or bib overalls. The clothes have a matte-type finish. Some of these pieces are then highlighted with sparkling diamonds. Each kid design has a high polish body with a matte-type finish on all clothing, hair and hats.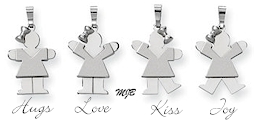 4 sweet poses to choose from...
Hugs- Both arms are out to the sides ready to hug to embrace you.

Love- Both arms are in the air.

Kiss- One arm up and the other out to the side.

Joy- Arms and legs are out as if jumping in celebration.
Most items are available in two sizes... a few pieces may be available in the largest size. Sizes provided are approximate. Measurements taken from bottom of feet to top of head without bow/hat, pendant bail or ring.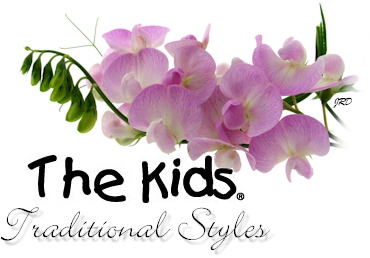 ---
1
2
3
4
5
6
7
8
9
10
11
12
13
14
15
16
17
---
The Kids® Index-
Special Order Items- Not Returnable.
Shipping Time For Items On This Page:

Many of The Kids® are in stock with our supplier and generally ship in about 3-7 days plus delivery time to you. Note however that some items may be out of stock. Out of stock items generally take about 3-6 weeks for the manufacturer to make and ship.

IMPORTANT: Please inquire before ordering if you need an item by a specific date to see if we can meet your time frame.
Most items are enlarged to show detail. Refer to size
guide provided. Click on images below to view larger picture.
Approximate Size Guide
(To top of head- without bow/hat, bail or ring)
LARGE SIZE KID: Full Kid
About 1 1/4" tall
MEDIUM SIZE KID: Halfpint
About 7/8" tall
SMALL SIZE KID: Quarterpint
About 11/16" tall
TINY/MINI SIZE KID: Quarterpint
About 1/2" tall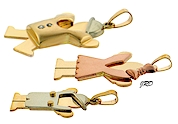 Optional engraving is available for 14k gold pendants that
indicate "engravaeable". Additional time to ship is required...
click here for engraving fee.