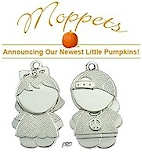 Exclusive! You'll only find them here.
Announcing the arrival of the newest pendants and charms for mothers! Sweet little boys and girls crafted in sterling or in 14k yellow gold. Fun designs that share the joy of childhood. Wear them as a pendant on a chain or on a charm bracelet. Click on one of the links below to view these wonderful designs!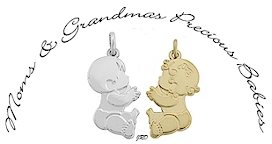 For Moms & Grandmas- Precious Babies
They are so adorable! Our newest kids are now available in 14k yellow gold or sterling silver. Choose from a baby boy or baby girl design in two sizes. The small size is perfect for a charm bracelet. There are even twins designs... girl and girl, boy and boy or boy and girl! This fun collection also includes a more modern version of a mother cradling her child... choose from mother and son or mother and daughter. A few diamond items are also available. Click here to view selection.
Little boy and girl pendants. These cute designs are crafted in 14k white gold and are set with a round white CZ and either a trillion or oval shape birthday stone. All 12 months are available. Click here to view this collection.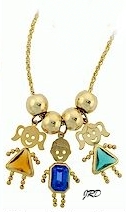 14k Boys & Girls
with Simulated Stones
More boys and girls set with simulated stones for each of the twelve months. These children have lightweight jump rings for a bail. Click here to view the selection.
Sweet little boys and girls crafted in sterling silver, gold-plated sterling silver or 14k yellow or white gold are charming gifts for mothers and grandmothers. Each design can be worn as a pendant or charms and measure about 7/8" tall without the jump ring. They are now simple one-piece designs that have been stamped and have both a high polish and matt/etched finish. They are simply adorable on a bracelet or necklace for mom or grandma. Some metal qualities can be personalized on the back with a short name, initials and/or a date. It's fun to both give and receive a Cuddle! Click here to view Cuddles pendants and charms!