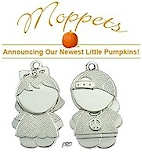 They're back and you'll
only find them here!
Announcing the arrival of the newest pendants and charms for mothers- Moppets! Sweet little boys and girls crafted in sterling or in 14k yellow gold. Fun designs that share the joy of childhood. Moppets can be worn as a pendant on a chain or on a charm bracelet. Click on one of the links below to view these wonderful designs!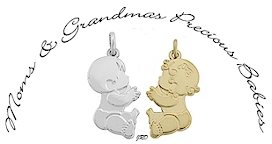 For Moms & Grandmas- Precious Babies
They are so adorable! Our newest kids are now available in 14k yellow gold or sterling silver. Choose from a baby boy or baby girl design in two sizes. The small size is perfect for a charm bracelet. There are even twins designs... girl and girl, boy and boy or boy and girl! This fun collection also includes a more modern version of a mother cradling her child... choose from mother and son or mother and daughter. A few diamond items are also available. Click here to view selection.

The Newest Version Of Cuddles™ Is Now Available!!
Sweet little boys and girls crafted in sterling silver, gold-plated sterling silver or 14k yellow or white gold are charming gifts for mothers and grandmothers. Each design can be worn as a pendant or charms and measure about 7/8" tall without the jump ring. They are now simple one-piece designs that have been stamped and have both a high polish and matt/etched finish. They are simply adorable on a bracelet or necklace for mom or grandma. Some metal qualities can be personalized on the back with a short name, initials and/or a date. It's fun to both give and receive a Cuddle! Click here to view the newest Cuddles pendants and charms!