Family Tree Pendants &/or Pins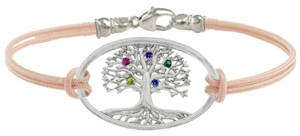 Our newest family tree pendant is custom set with 1 to 5 birthstones. This pretty mothers bracelet is crafted in sterling silver and includes a cord bracelet. Click here for more information!
Create your family's custom tree in 10k gold,
14k gold or sterling silver with stones to
represent your unique family. Choose from
four different family tree jewelry designs.