Family & Friends Inspirational Collection

Item # I-IFC-Embraced by the Heart Pendant

I-IFC-R45218
Embraced by the Heart™
(Mother/Child)
Sterling silver.
24.8 x 18.7mm

I-IFC-R45219
Embraced by the Heart™ (Family)
Sterling silver.
25.1 x 21.1mm

I-IFC-R45220
Embraced by the Heart™ (Family)
Sterling silver with
TRICOLOR 14k/18k plating.
25.1 x 21.1mm
Pictures are enlarged to show detail… refer to
approximate size provided. This item generally
ships in about 2-7 days PLUS delivery time to you.

The enduring bond between a mother and child or mother, father and child is captured in this symbolic pendant design. The love and unity of family is shown in the tender embrace of a mother or a father holding his family close to his heart. Each pendant is crafted in sterling silver, some are accented with karat gold-plating, and each piece has a hollow back. Includes a lightweight 18" pendant chain.
Items not shown to size, refer to measurements
provided below. Each item sold separately.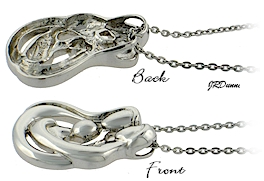 Family...
In each one of us are two hugs inside, one waiting to give and one waiting to receive. This product line was inspired by my love for my husband to whom I am safe in his embrace and my family including my precious grandchildren who always have a huge hug to give. Here's to us who believe that being embraced by someone softens the aches of the day, puts love and hope back into our life, and simply put makes life a little better. I send to you my best embrace!

Our Price: Click on box below for pricing.