Sorry, this keepsake has been
discontinued by the manufacturer.
The Original Mother's Ring®... since the time of it's inception back in 1959, this ring was destined to become a timeless keepsake for the generations that followed. It is our most symbolic mother's ring available today. Crafted from two individual bands of solid karat gold or platinum, they represent mother and father. The children's birthstones are held in place with a unique, low profile, four prong setting which connects both bands. Mom and dad's stones can also be set to create a "family" ring. This ring represents the unity and bond of a mother's or grandmother's special family.
Craftsmanship...
This classic ring is crafted from two individual bands that measure about 2mm wide each. It is set with nice size round-shape stones that measure approximately 3.75mm in diameter. This ring has a top-center measurement of about 6mm... the bottom too if a gap-style is selected. Because this is a wider ring, it's important to get the correct ring size measurement using wider finger measuring gauges especially if this ring is made with a gap.
This traditional design has a low profile... stones are set close to the top of the band meaning she's less likely to hook the heads on something.

The Original Mother's Ring can be made one of two ways...with a tapered shank where the two bands are brought together at the bottom or a gap can be left between the bands. The "pinchback" allows for a more comfortable fit that is noticed most when she clenches her hand.


Choose from two different emerald options-
light or dark. We custom-set them so they
will take an additional 7-14 days to ship.

EMERALD NOTE: In 2016, the emeralds set in this special keepsake ring changed... they are now very LIGHT in color.

DARKER emeralds are available however the custom-set ring will take an additional 7-14 days to ship. See individual ring and pendant order pages for pricing.

Finer qualities are also available... contact us for pricing.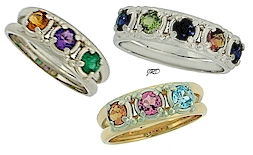 FavoriteJewelry.com® offers this classic ring in the following metal qualities and combinations...
10k gold rings have white heads and yellow bands OR all 10k white gold.

14k gold rings have white heads and yellow bands OR all 14k white gold.

Platinum options include rings with18k yellow gold bands and platinum heads OR all platinum.
Note: If The Original Mother's Ring is ordered in yellow and white karat gold, there is a very subtle difference between the yellow karat gold bands and the white karat gold heads. This ring is never made in all yellow karat gold.
Each stone in this ring represents a family member. You can choose from genuine birthstones or simulated stones... more affordable options are offered for the months of April, May and July.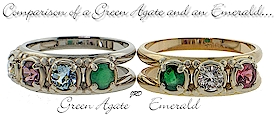 Stone Addition Considerations For Original Mother's Rings...
Original Mother's Ring- Should stone additions are required for The Original Mother's Ring®, new heads are soldered on the current/existing setting... most existing stones must be removed first, then reset because they will not take the heat of a torch. The exceptions are usually Rubies, Sapphires or Diamonds. Because of this, it is usually more expensive to have stones added to the Original Mother's Ring compared to ring styles that are simply traded in for a new ring.
Gap vs. Pinch Back- If mom or grandma might eventually wish to add stones to her special ring in the future, consider purchasing this ring with the gap. The reason we recommend this is because it may be less expensive to add heads/stones to a ring with a gap because it has no fixed center. The pinch back ring has a fixed center which is located in the middle of the shank (the part of the ring you see when you look at the palm of your hand). You cannot add just one stone to a pinch back because it will make the ring unbalanced. All heads must also be repositioned. See below for more information.
One Stone Rings Note:
Rings with only ONE stone will come as pinchbacks...
the bands will be touching and soldered for stability purposes.

The Original Mother's Ring with a GAP- shown at the top of both pictures on the right. If you were to place 1, 2, 3 or more stones next to the existing stones, the center of the ring (at the back-shank) would not be effected because the ring with a gap actually has no fixed center.

The Original Mother's Ring with a PINCH BACK- shown at the bottom of both pictures on the right. This ring has a fixed center which is always located in the middle of the pinched ring shank. If one stone was added, it would throw off the center of the ring and it would not be balanced... if looking at the ring from the sides, one side of the ring would have a stone closer to the pinched back than the other side. If two stones were added, it would again be balanced. When an odd number of stones are added, the ring must have all of the existing heads repositioned which involves more labor so it is more expensive to add stones to the pinch back style.
Stones Available for
The Original Mother's Ring...
Genuine Stones

Simulated Stones

January
Mozambique Garnet
January
Simulated Garnet
February
Amethyst
February
Simulated Amethyst
March
Aquamarine
March
Simulated Aquamarine
April
White Zircon OR
Diamond I1 to SI2
clarity/J-K color
April
Simulated White Spinel
May
Light or Dark Emerald OR
Green Agate
(see below-left)*
May
Simulated Emerald
June
Green Tourmaline
June
Simulated Alexandrite
July
Rudy OR
Rhodolite
July
Simulated Ruby
August
Peridot
August
Simulated Peridot
September
Blue Sapphire
September
Simulated Blue Spinel
October
Pink Tourmaline
October
Simulated Rose Zircon
November
Citrine
November
Simulated Yellow Topaz
December
Blue Zircon OR
Iolite
December
Simulated Blue Zircon
* Green Agate is a green stone that is usually
very cloudy. If you want a May stone to look
like traditional Emerald, select the DARKER Emerald.
Mothers rings and family jewelry... Over 750 specialty mothers jewelry items including the Original Mother's Ring and Mother and Child pendants! Online ordering, competitive prices. Click here for more mothers rings and jewelry.