1. Moppets Pendants and Charms

Announcing the arrival of the newest pendants and charms for mothers- Moppets! Sweet little boys and girls crafted in sterling silver or in 14k yellow gold. Fun designs that share the joy of childhood. Moppets can be worn as a pendant on a chain or on a charm bracelet. Click on one of the links below to view these wonderful designs!
---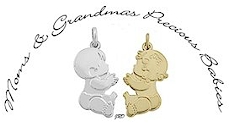 2. For Moms & Grandmas- Precious Babies

They are so adorable! Our newest kids are now available in 14k yellow gold or sterling silver. Choose from a baby boy or baby girl design in two sizes. The small size is perfect for a charm bracelet. There are even twins designs... girl and girl, boy and boy or boy and girl! This fun collection also includes a more modern version of a mother cradling her child... choose from mother and son or mother and daughter. A few diamond items are also available. Click here to view selection.
---

3. Cuddles Pendants
Sweet little boys and girls crafted in sterling silver or 14k yellow or white gold are charming gifts for mothers and grandmothers. Each design can be worn as a pendant or charms and measure about 7/8" tall without the jump ring. They are now simple one-piece designs that have been stamped and have both a high polish and matt/etched finish. They are simply adorable on a bracelet or necklace for mom or grandma. Some metal qualities can be personalized on the back with a short name, initials and/or a date. It's fun to both give and receive a Cuddle! Click here to view the newest Cuddles pendants and charms!
---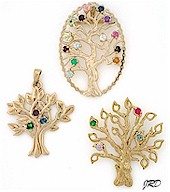 4. Family Tree Pins and/or Pendants

A charming Black Hills Gold tree design has just been added. What is unique about this family tree design is that if a stone is not set in an available location, it has pretty pink or green leaf "fillers".

Choose from three lovely family tree designs. Custom set with stones to represent the birth day of each family member. Click here to view the collection.
---
5. Mothers Birthstone Bracelets In Sterling Silver

Birthstone bracelet designs for mothers... it's a fun and stylish way to celebrate being mom! Crafted in sterling silver with sparkling genuine or simulated birthday stones. Choose from two styles- an open oval design or a swirl with a peapod shape center. Each bracelet ordered comes with a colorful cord bracelet with sterling silver clasp and an optional sterling silver bangle is also available.
Swirl Pattern Mother's Bracelet

Oval Pattern Mothers Bracelet
---
6. Mother's Key® and the Original Window Box®
Pins or Pendants & Baby Ring Pendants

Each of these pretty 14k gold items are available as a brooch or pendant. The unique key is offered with 10 simulated stones and the tree is available with 1-9 stones. The window box design has 12 little flowers that can be set with either genuine or simulated stones. Click here view these items.
---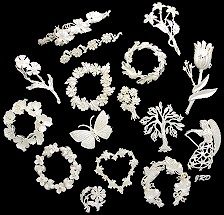 7. Sterling Silver Brooches

We are excited to share with our customers a beautiful new garden of floral brooches! These are charming pin designs that can be custom set with her family's unique birth month stones to create a memorable mothers or grandmothers brooch. These items will all be offered in sterling silver so it will keep pricing more affordable. 14k yellow or 14k white gold will also available but will take longer to craft.
---
8. Stackable Pendants

Our newest stacking pendants are available in sterling silver or 14k yellow or white gold. Each pendants is set with a birth month stone to represent those important to your life. Genuine or Chatham® Created (man-made) stones are offered. Choose from trillion, round, oval or princess shape stones. Diamond clusters also offered in 14k settings only. Click here to view selection.
---
9. Brooches

Most of these beautiful brooches are custom set with stones to represent your children or family! Artist's Paint Pallet mother's brooch has just been added. Click here to view this selection.
---
Ten beautiful pendant designs that are set with simulated stones or the best quality genuine stones that we offer online. Blank settings are also available in 10k, 14k or 18k gold. Ships fast in about 4 to 10 days!
---

11. The Original Mother & Child® Pendants

The original Mother and Child® pendants by Janel Russell... a traditional mothers gift. The symbol of the special bond between a mother and her child available in pendants, rings, earrings and bracelets. Authentic Mother & Child® watches and clocks have also been added! Click here to view the collection.
---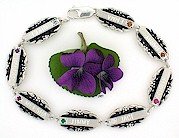 12. Forget-Me-Not Bracelet

A lovely bracelet that is crafted in sterling silver or 14k yellow or white gold with antiquing highlights. Engraving and optional genuine stones are also available. Make a lovely keepsake bracelet from mom. Click here to view the collection.
---

Adorable boy and girl pendants in 14k gold. High polish and satin finish charms that are engravable. A mother's pendant with clean lines but lots of personality! Click here to view selection.
---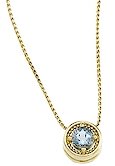 14. Solitaire Chain Slides


An extensive selection of custom-set chain slides in 14k gold. These lovely designs can be set with diamonds, genuine colored birthstones or simulated birth month stones to represent mom's unique family. Click here to view selection.
---
15. Special Pendants That Can Be Custom Set

Many of these designs are pictured with just diamonds but they can actually be set with genuine birthstones or simulated stones to represent birth months. Click here to view this selection.
---
16. Charm Bracelets... The All Around Keepsake

The beauty of charm bracelets is that you can add a new keepsake to to commemorate many special occasions which makes them even more memorable. Click here to view our selection.